Wavesets
A Waveset is the ability to combine multiple orders into a single work set. A Waveset is also the ability to implement a QA process or pick and pack scenario in the warehouse.
Wavesets are used for two scenarios:
Consolidated Picks –
This is a fulfillment method to optimize labor by consolidating multiple pick requests or order picks into one Waveset. For example, it may be useful when you have fifty orders, all for the same part, going to different customers. You can create a Waveset from the Web Console and pick them as one pick. Reference the video from the quick start series on creating Wavesets manually.
QA Checks –
Wavesets allow for QA processing of picks. You can set up auto-creation of Wavesets which allows for a pick to occur. Upon completion an operator would be required to re-scan all the picks before completion of processing. You can auto-create QA Check Wavesets by adding the order type to the configuration settings page on the Web Console. In your request, please include the order types you would like to include in Waveset generation. For example, "SO" is the most common order type. Once support sets this flag, a Waveset will be automatically created from orders coming in via Data Setup Tools import, or an API call.
Picking Flow for Wave Sets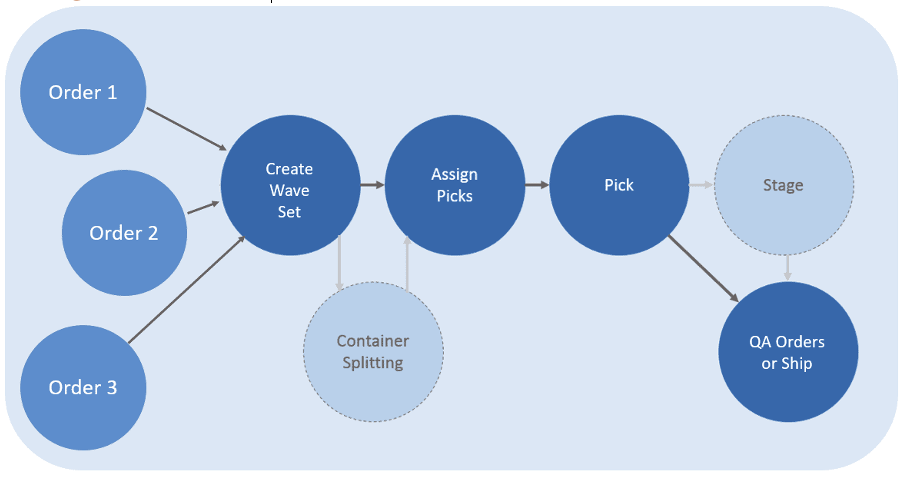 The chart above is the flow for Wavesets. There are several configurations specific to Wavesets:
Enable Wave Set Orders
Allows users to create Wavesets for picking.
Wave Set Post Pick Action
Auto Allocation –
The inventory picked during the Waveset pick will be allocated against the child orders automatically upon completion of the wave pick. This setting is most often used when picking multiple orders with similar items and shorting picks are rare and there is no need for separation at the point of shipping. If the Waveset is short picked, child orders that are NEWEST to WithoutWire are shorted first when using auto allocation.
Two-Step Pick –
Identifies that when the Waveset is complete it will be staged and then each child order will have to be picked individually. Most often used for either QA or pick and pack processes.
Auto-Assign Child Orders
This option is only available when the Wave Set post pick Action is set to "Two-Step Pick". Then the child orders that make up the Waveset will be automatically assigned once the Waveset order is complete.
---
---
What's Next