Version 9.6
WithoutWire V9.6 continues to build on our unique and powerful inventory management platform. This release is the culmination of two years of development and brings expanded support for Field Service and 3PL applications, improvements to our open API for enhanced scalability at high transactional volume, as well many other architectural improvements and bug fixes.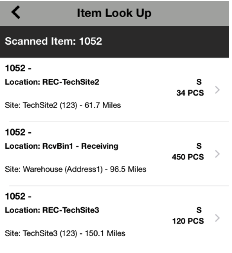 Location Tracking
It is now possible to store user and warehouse geolocation coordinates by enabling the "Track Location" configuration. When turned on, WithoutWire will capture users' physical location in real-time as they interact with the app. This can be used to drive custom behavior with many applications for Field Service. Stay tuned for expanded functionality coming in a future release!
Customer Owned Inventory
If you are managing inventory for customers, it can be allocated or reserved for that owner. This can be setup as a parent and child hierarchy so inventory from a parent owner can be used to fulfill orders for a child owner.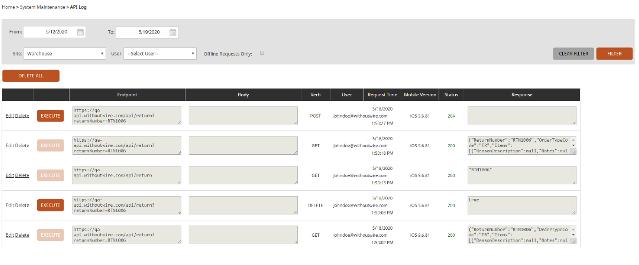 API Logging
Track requests made to the WithoutWire API for better insight into user behavior and improved visibility when setting up integration processes.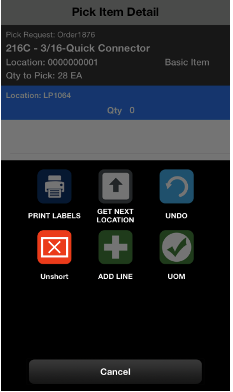 Unshorting
Undo a short on an order line quickly and easily by pressing Options > Unshort from the Pick Item Detail screen.
Support for Multiple Receiving Locations
It is now possible to receive to multiple Bins per site. Simply scan the Bin you'd like to receive to from the Receive Detail screen. Any Bin with the "Allow Receiving To" rule set up on the BinType/Rule Assignment page is considered valid.
Picking Performance
The application logic for picking was redesigned to improve performance, especially when handling large orders.
Flexible UI Elements on Mobile Field Service Screens
Manage Parts & Supplies and Consumption have several new configurations that can be used to customize the UI elements to your liking.
Improvements to the WithoutWire API
Added the ability to export purchase order receipts by PO type and line receipt status. Greatly enhanced the performance of inventory adjustment export. Type and status codes can now be comma-delimited to allow for better filtering of results.
Better Reporting on Custom Attributes
Attribute information has been added to several of the default system reports for better visibility.
Bug Fixes
Numerous bug fixes and improved error messages for clarity.
---
What's Next