Share feedback
Thanks for sharing your feedback!
Add Manufacturing Job
The Add Manufacturing Job function is designed for those warehouses that plan their manufacturing in advance. Upon initial creation of a manufacturing job, virtual License Plates will be created and assigned a set number of finished goods and a corresponding quantity of raw material.
If the inventory is depleted prior to activating the License Plate, the additional inventory must be transferred to the manufacturing Bin assigned to that LP otherwise the Bin will run negative or cause an error depending on your configuration settings.
Select a manufacturing Bin in the Select Location dropdown box.
Enter the finished good Item number to create and click Go.
Confirm the Item by verifying the Item Description.
If the finished good is not a basic Item type, enter Lot Number/Serial/Exp. Date
Select the desired UOM.
Enter the # of License Plates to be created.
Enter Owner, If applicable.
Enter the Quantity per LP that is expected and click Go.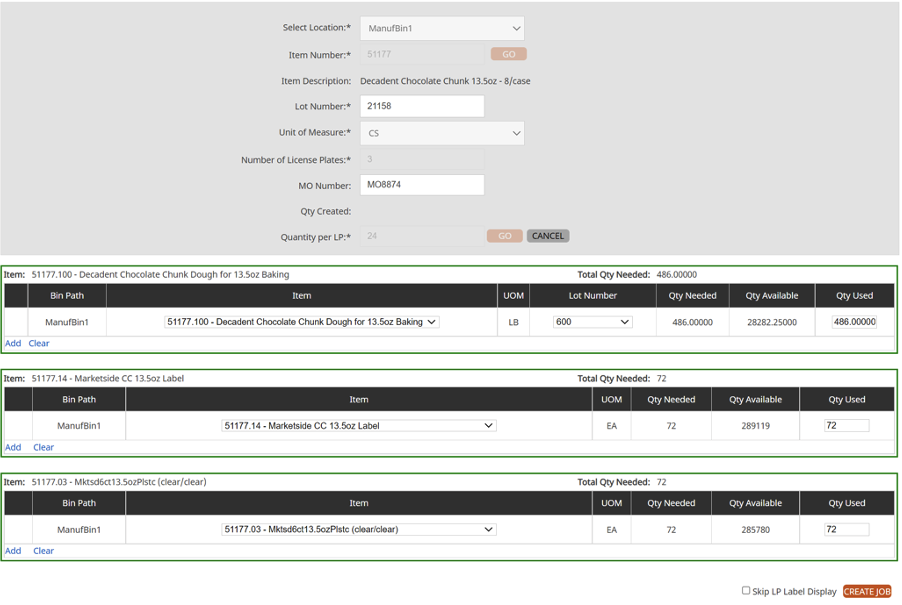 The bill of materials will be displayed (as seen in the image above). A closer look at this screen will reveal the quantity needed to create the finished good, the quantity available of the raw material for a particular lot number within the manufacturing Bin as well as the quantity used when the finished good is created.
Clicking Create Job will export a PDF for the License Plates which can be printed.
A message will appear stating the job was created successfully.
---
What's Next